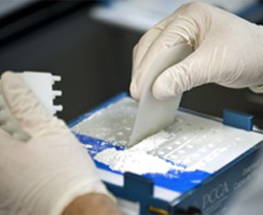 Specialty Compounding
Every patient has different requirements and preferences, whether it be dosage availability, allergy to dyes, flavouring preferences, or even swallowing issues. For all these problems… compounding is the solution!
What We Do
As a compounding pharmacy, Macdonald's Prescriptions #3 will work with your physician to prepare specialized medication for you, your children, or even your pet. Our pharmacy specializes in several custom compounding services, including:
Hormone Replacement Therapy (HRT) Bio-Identical Hormones
Hormone replacement therapy can be hugely beneficial in relieving women's menopausal symptoms. Our compounding pharmacist will work closely with you and your doctor, helping to create and maintain a customized HRT regime that brings your hormones back in to balance, safely and naturally. Once the therapy has started, we will monitor your progress to ensure the HRT is functioning at peak performance, adjusting the dosage if necessary.
Pain Management
Struggling with pain can be debilitating, whether it is acute pain or chronic conditions such as arthritis, fibromyalgia, migraine headaches, and other nerve and muscle pain. What's more, many medications can result in a host of unwanted side effects, including drowsiness, dizziness, and stomach irritation. We can compound a medicine that will assist you and your health care provider to create an effective pain management program with fewer side effects.
Pet Medication
As a pet owner you know how challenging it can be to get your cat or dog to take their medication. If you are looking for an effective solution to this problem, compounding offers a variety of options to make medicating your pet quick and easy. From a wide assortment of flavoured medications to customized dosage forms and amounts, our pharmacists will work closely with you and your veterinarian to ensure your pet receives the highest quality health care.
Flavour Compounding
Many patients simply don't like taking their medicine. From a child who hates the taste of cough syrup to a pet that refuses to swallow their pill, taking unpleasant tasting medications can be a challenge for anyone—but it doesn't have to be. Flavouring challenges can be resolved through compounding. Our compounding pharmacists can easily create a customized medication that tastes great, helping patients take their medicine on time and without fail—humans and pets alike. Macdonald's Prescriptions #3 has access to a wide variety of flavour combinations to make bad tasting medicine a thing of the past.
Book your appointment with us today at 604-738-0733.