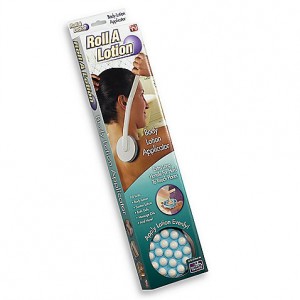 Overview:
Roll-A-Lotion
As Seen On TV
Simply fill the reservoir with body lotion, suntan lotion, bath gel, massage oil and more, and the applicator glides over your skin and releases an even layer of product.
It comes with 19 floating balls that soothe and massage your muscles gently, yet powerfully.
The extra long handle lets you reach hard to reach places like your back to soothe sore muscles, and is great for even your ankles and feet.
When finished, place the air tight cover over the head to keep the solution from drying out, and hang to conveniently store it out of the way.
Features:
Measures 19 1/2″ L x 4 3/4″ W x 1 1/2″ D.